"To me, who am less than the least of all the saints, this grace was given, that I should preach among the Gentiles the unsearchable riches of Christ"
~ Ephesians 3:8 ~

As 2019 comes to a close we want to give thanks to God and to you all. God has been very gracious to give us the strength, mercy, and joy that we need. We have now been serving in Guatemala for over three years. It has been a great blessing to see Him continue to work in the lives of the members of Iglesia Antorcha. Thank you for all of your prayers and financial support in 2019. We could not be here apart from your sacrifice and love for the church.

This past November we were blessed to add two new members Jaír and Ania Vallecillo to Antorcha. They are a dear couple who moved from Honduras to Guatemala City for work. They found our church online and have been a joy to serve with. Jaír grew up going to an evangelical church in Honduras. He repeated the sinner's prayer when he was young and was baptized. Afterward his life became filled with more hypocrisy and he eventually stopped attending church all together. He lived in immorality, and became an alcoholic and drug user. Jaír would call himself an atheist and mock Christians. In 2015 he fell asleep listening to music on Youtube but later woke up to the preaching of Paul Washer. The sermon was about the true gospel and false conversions. Jaír was greatly convicted by what he heard and began to listen to more. The Lord saved Jaír through these sermons and immediately he began to witness to Ania. She thought that he had literally gone crazy. But after about a month the Lord saved her as well. The Lord radically changed the desires and lifestyles of the Vallecillos. Ania later said concerning her husband, "I am a witness of what God has done and continues to do in the life of my husband! God is powerful and can save the most vile sinner!" We praise God for His ongoing work in the life of Jaír and Ania.
2019 Annual Church Picture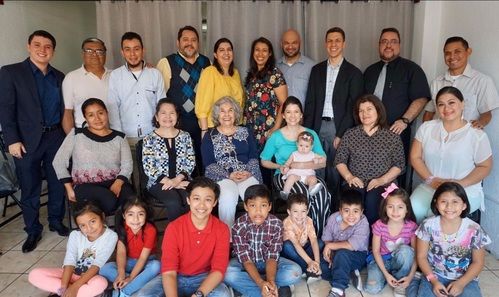 The Mudges with Ania and Jair
This month we had the blessing of going to downtown Guatemala to preach the gospel together as a church. During Christmas time the central plaza is filled with thousands of people. We preached, passed out well over a thousand gospel tracts, and had numerous good conversations. I spoke with a man named Alfredo who lives in Chimaltenago (an area about a couple of hours outside the capital). He was crying over all of the people who passed by without listening to the gospel. We spoke about key elements about the gospel that are commonly not understood in Guatemala.
Open-Air Evangelism Church Event
This year we have received an invitation from Pastor Manuel Sheran of Iglesia Bautista Renacer (a 1689 Confession church in Honduras). He has asked us to come over and disciple some church members in the theology and practice of open air preaching in 2020. We are all excited about this opportunity to serve. We are hoping to make it our first church missions trip.